Print again and again for less with Eco-Saver Compatible Reusable Printhead and 3 Ink Tanks are easy to install, this multi-pack contains 3 67XL high-yield Tri-Color ink refill tanks and a new reusable printhead shell. To print, just insert a refill tank into the printerhead shell and install! Each refill tank is a new ink tank that has been tested for performance, quality and page yield so you get premium results page after page. The printerhead shell that holds the refill tank is a brand new printhead that can be used with a total of 3 refills.
How do we install HP 67xl ink?
The installation guide is suitable for the same original 67xl compatible printers.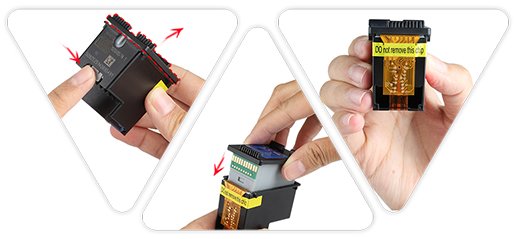 Simply put, it takes 3 steps to install  ink cartridge, and the guide also applies to HP 67 ink.
Step 1: Remove the protective cover of the ink cartridge
Step 2: Remove the sealing tape
Step 3: Install the ink cartridge into the printer.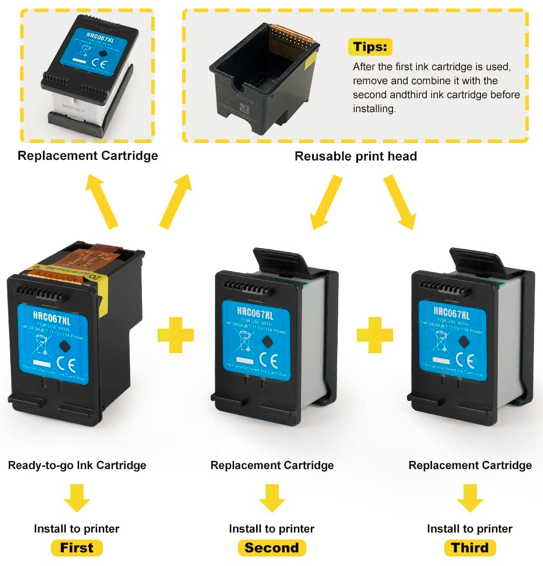 How to replace 67xl ink cartridge?
67xl  has a OEM print head, which cannot be thrown away until run out of all ready-to-go ink cartridges as the 2 separate cartridges need to be assembly with the reusable print head. The operation of replacing the cartridge also only requires 3 steps:
Step 1: Press the "Push" button, take out the used ink cartridge, and keep the reusable print head.
Step 2: Put the new ink cartridge into the reusable print head (Note: Please confirm whether the chip is inserted in the correct directions)
Step 3: Install the ink cartridge into the printer.
More intuitive tutorial, please refer to the following video:
Compatible Printers